Helping you extend the lifespan of your client relationships
Many companies provide valuable business-to-business (B2B) solutions for small businesses. Here at Your Computer Department, we do exactly that. However, while our day-to-day IT support services tend to be of the 'small and often' variety, other businesses offer more of the major projects that occur less frequently.
For instance, telephone systems are vital to most businesses but this would be a project that a business looks at once every 5 years or so. If you run a telephony installation business, then you will probably know how difficult it is to gain repeat business if you have been unable to maintain a regular, healthy, personal relationship with your client after the initial sale. When it comes to renewal, business owners often jump to other suppliers that their peers have been happy with – many businesses even forget the name of the company that previously did the work!
This is where it gets exciting! We have found that businesses trading along side Your Computer Department, supplying complimentary services to our own, are often perceived to be related to us. When the time comes to renew that product or service, we are often involved in the discussion with the client. We have usually been able to re-introduce the previous company which perhaps the client would not have ordinarily considered.
In our example, the relationship between the telecoms provider and ourselves is generally seen by the client to be strong. Particularly if it was the telephony company that introduced Your Computer Department to the client. In fact, clients almost seem duty-bound to re-use the telecoms company that introduced their IT services provider. This theory works not only for telephony, but for other products and services such as web site development, data cabling & electrical contractors, print & stationery suppliers, marketing services and many other trades.
Introduce your clients to Your Computer Department.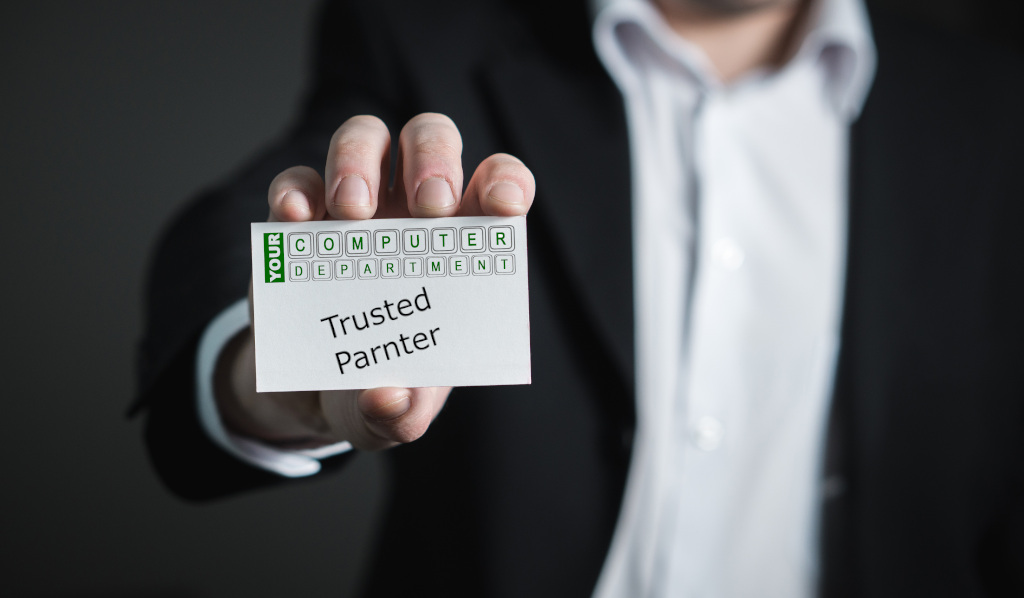 What's in it for you?
Introducing your clients to the vast array of services available from Your Computer Department could easily make the difference between your project being a one-off or a life-long business relationship.
Our business relationships are extremely strong. We're a nice, knowledgeable and skilled bunch of people and many of our clients have been with us in excess of 10 years. We have almost become part of their own business – which is the way it should be.
If you would like to be part of this success, then partnering with us makes obvious sense. There is no cost to you. Simply explain the benefits that Your Computer Department offers to their business, and introduce us.
It's a no-brainer.
What's in it for your client?
Accredited by CompTIA for IT Solutions & Support.
Our services and support are accredited by CompTIA, a global leader in excellence and certification within the IT industry. This is not merely an association – CompTIA have investigated the way we work and how our business is run throughout a series of visits and evaluations. This means that we know, you know and your clients know that we are as good as we say we are. A true rarity in the IT industry and almost unheard of at small business level.
We offer a complete one-stop solution for IT support and services.
Our range of IT products and services is designed around small businesses. We provide the best solutions to enable small businesses to work professionally, efficiently and reliably while keeping the costs low.
Range of payment options.
Our services are available in a range of support options and price points ranging from a pure Pay-As-You-Go service all the way through to high priority, All-Inclusive IT support.